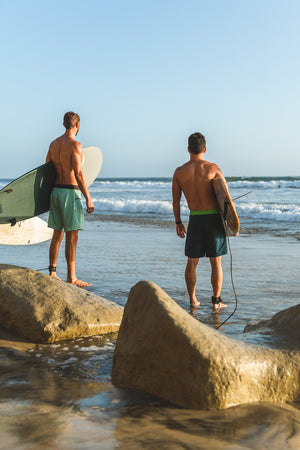 INSPIRED BY A DEEP
LOVE FOR THE OCEAN
OUR STORY
Driftline creates innovative, patent-pending activewear built for maximum performance in any watersport. Our products aim to fill a void in aquatic apparel by giving you the right gear to conquer the water with comfort.
As watermen in our own respective sports, it all started for us during an October surf session at our favorite spot in San Diego. Colder winter swells had begun replacing the warmer summer waters, leaving us thinking about how to gear up properly. It was that time of the year where it was too cold for boardshorts, yet it was too warm for a wetsuit. Our unmentionables were the first to agree.
We realized that these multi-season transition periods in the water are not only problematic for surfers here in San Diego, but also for wakeboarders, swimmers, kayakers, and many other watersport athletes across the globe. We tried every solution out there, but none of them seemed to offer the right comfort, warmth, or chafing protection.
It was at that exact moment that the idea for Drifties™ was born – a specialized inner liner made out of wetsuit material, connected to a stylish outer boardshort shell – giving us ideal support and flexibility in movement. This two-in-one option fills the transitional void and gives watersport athletes a comfortable, durable, and functional piece of apparel equipment to help overcome the challenges ahead.
Continuing to innovate our activewear is a promise we've made to ourselves here at Driftline. We aim to redefine how you interact with the water by giving you the tools to meet your moment head-on with a clear headspace, and total comfort. So go ahead...dive right in.
WES HORBATUCK
Founder | Creative | Burrito Connoisseur
@whorbatuck
GREG ORFE
Co-Founder | Designer | Plant Guy
@greg_orfe