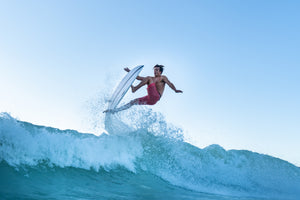 Who are Driftline athletes?
As Driftline continues to grow as a brand, we're STOKED to partner with a select group of watersport athletes, content creators, and epic individuals who represent all of the things we value in life. Ranging from professional athletes to multi-sport specialists, this team is adept at showcasing the diverse usage of Drifties™ across surfing, wakeboarding, foiling, kiting, and watersports as a whole. We're proud to showcase these rad humans as they go out there and Meet Their Moment every single day.
★★★★★

You're only as good as your weakest link, and that's especially true with the gear you use. Drifties have allowed me to improve my game tenfold now that I'm never held back by discomfort, or restricted by less-than-perfect shorts.
★★★★★

Drifties are hands down the most useful boardshorts on the market. Not only does the wetsuit liner provide additional warmth, but also protects me from chafing so I can never stop doing the sports I love.
★★★★★

We live to tell stories both in-and-out of the water. On shoot days where we're doing just that, Drifties are the perfect balance between warmth and comfort for a full day of filming in with no chafing at all.